Multipliers – the best leaders make everyone smarter
Multipliers is a global leadership course that challenges the assumptions and behaviours of your leaders to create Multiplying tendencies as opposed to Diminishing tendencies. 
A powerful course that teaches leaders a universal new and empowering language where they can benefit from doubling the intelligence of their teams. 
Click here to find out more or contact Deborah to find out about running the program in-house.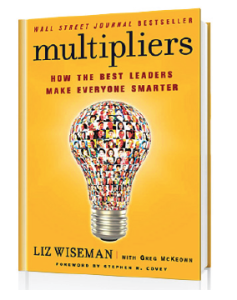 GLIDE – A 5-Step Process to Effortless Performance for Teams
GLIDE is a leadership and culture program to help teams work better together. Incorporating the TMS profiles, it helps teams understand each other and identify how they can increase communication, collaboration and clarity.
For intact teams who are experiencing the hindering effects of silos or poor communication flow, lack of collaboration or clarity and / or who are undergoing change or other challenging circumstances. GLIDE helps bring the team together and strategise on the way forward.
Questions to consider where GLIDE can help:
– Are your leaders finding it challenging to influence the performance they need from their teams?
– Is getting the best out of everyone feeling a bit of a pipe dream at the present time?
– Are expectations for results still high despite resources being low?
– Are there communication blocks or silos impeding a strong performance within your organisation?
– Is there a need for a cultural shift to a more open and collaborative environment?
– Could your leaders and teams benefit from more clarity in purpose and vision?
– Is there a lack of stakeholder influence prevalent within your teams or divisions?
– Do you need to move your teams from paraylsis to being a highly performing and connected unit?
– Are your leaders spending most of their time putting out fires as opposed to developing effective and sustainable practices?
– Is engagement and productivity suffering at the cost of time, skills and resource constraints?